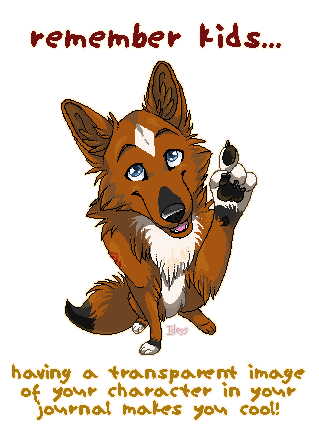 100 pic challenge List
|
Iddy's Quotes
Alright, what I'm about to say are FACTS about that weird word people call "Furry". What does it mean? Are you a furry? Is your friend a furry? Please read this and come to that decision yourself. And I swear to you that these are all facts (as hard as that is), and not 'what I believe'. So please don't just tell me this is my opinion.
Let's start at the beginning. Most of you probably know the word 'anthro', and that it means something along the lines of an animal that walks on two legs. But it's more than that.
The term "anthro" is short for "anthropomorphic" which means ANYTHING non-human that has human features. So yes, ANYTHING can be an anthro! If anyone has seen Disney's Pocahontas, the Mother Willow tree was an Anthropomorhpic tree! You can anthropomorphisize anything that's not already a human

The Little Toaster is an anthro toaster, etc.
Now, it's pretty easy to see that animals have been anthropomorphisized a lot. Disney movies like Robin Hood all the way to my own gallery, where animals are seen smiling or talking or doing anything remotely human (and yep, Disney's "Bolt" and the "Warriors" books can technically be considered anthro).
So NO, furry does not describe a TYPE of anthro. A lot of people say that anthros akin to werewolves are called 'anthro' and the anthros that wear clothes and act more human-like are called 'furries'.
This is completely untrue
. There is no category of anthro animals! All anthro animals are anthro animals no matter how many human attributes they have! 'furry' is not a type of art or a type of character.
"Furry" is a word that describes
members of the furry fandom
. The Furry Fandom was 'started' a long time ago when people really liked the idea of anthro animals like Bugs Bunny or werewolves more than the average person. This is the start of the furry fandom. If someone is a 'member' of the furry fandom, they are, for the most part, called a 'furry' just as a member of the anime fandom is just an 'anime fan'.
Many people say a furry is someone who dresses up in animal costumes and goes to conventions. No.
Many people say a furry is someone who thinks they are an animal trapped inside of a human body. No.
Many people say a furry is someone who likes to "yiff" (a word synonymous with "sex") or draws anthros having sex. No.
Many people say a furry is someone who likes to have sex with animals. ABSOLUTELY NO.
Yes, there are some people that call themselves furry and do these things. But that definately does not MAKE UP what furry is! I know MANY furries who have never been in a costume (myself included) and I know MAAANY furries who know they are a simple human (myself included). And contrary to popular belief I know MANY furries who are not into sexual acts involving any type of animals (anthro or no) (myself included) and who are just average, regular people.
A furry is a member of a simple fandom! And how does someone become a furry?
YOU ARE A FURRY IF YOU WANT TO BE.
It's that simple. If you don't like the stereotype that comes with the word 'furry' or you just don't feel comfortable with it, then you don't have to be one! It's not like furries are forcing all the animals lovers into their fandom. You can call yourself a furry if you want to, or you can say you're not if you want to. You don't have to go to conventions to be a furry, or like anthros a certain degree. Must I go on? Furries can be people from every walks of life, people who just think anthro animals are a cool idea to people who wish they could be an animal.
Basically, what I'm trying to say is that the term 'furry' comes with a lot of negative stereotypes, and if that's all that's stopping you from identifying yourself with the fandom then you should try and realize it's all words. You are who you are, and you know what you do or don't do.
The furry fandom is a great place if you want it to be. When it comes down to it, all it is is a group of people who think anthropomorphic animals are cool. They have conventions so they can share their interest, meet other people with the same interest, and best of all buy art that visualizes their interest (because furry fandom wouldnt exist without art, since anthros don't exist in real life

). This is all that furry is.
Here are some links that may further explain the word "furry" and more about the furry fandom. If you are interested in this subject, I suggest you read them

What is "Furry"
What is "Furry Fandom"
Photo Account:

</u>
Idess Reference Sheet

Am I Open for Commissions? Click Here to Find Out!
Click for my commission prices and examples!

YES
You can use my art on your blog, roleplay, etc. (As long as my signature/watermark stays on and it is not used for profit)
YES
You can save my art onto your computer and use for personal use (desktops, print it out on your binder, etc)
YES
You can trace or reference my art as long as you give credit if you upload it online. "Credit" means a simple "referenced from Idess" in the description. If I see a trace without credit being given, I will ask you to give credit.
NO
You cannot upload my art to your DeviantART or other art account. Art websites are for your OWN art, not other peoples.
NO
You cannot ever use my art for any sort of profit (real or fake).
NO
You cannot use/trace/alter my art and say you drew it.
NO
You cannot erase my signature/watermark in any circumstance.